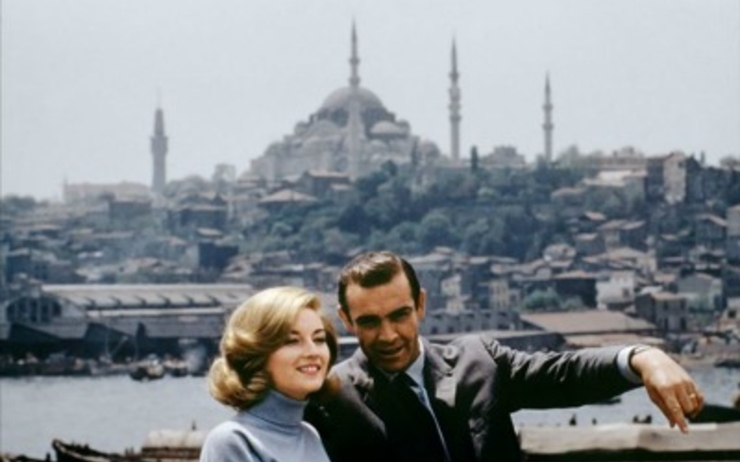 Seven films that are set in Istanbul (ideal for rainy afternoons)
Istanbul and Films :
This list goes from James Bond to Star Wars – Turkish Star Wars!
Have fun – maybe you'll find a film for the next rainy afternoon!
Let's go: Seven films with or from Istanbul:
For your convenience, I have added the trailers below, so you can watch them right away.
Cinnamon and coriander (POLITIKI KOUZINA)
First film in the list set in Istanbul.The astrophysicist Fanis once lived in Istanbul like many other Greeks. But the war with Cyprus completely changed the way we lived together.
In 1964, many Greeks were forced to leave their homeland. Fanis was among them.
Many years later, he returned to the city of his youth to visit his seriously ill grandfather.
When he was little, Fani's grandfather, Vassilis, instructed him in astronomy. He explained it by using spices. This shaped Fani's decision to study astrophysics.
Their relationship shows how cooking imparts valuable wisdom about life. It also shows the history of the Greeks in Istanbul.
2. UZAK – wide (2002)
An other film set in Istanbul. In 2003, Uzak received the prestigious Cannes Grand Jury Prize.
The film is about Mahmut, a divorced photographer from Istanbul. Due to his divorce, his social contacts have been restricted.
His contacts consist of drinking buddies, and he has an affair with a married woman. Nevertheless, his life seems to be in order.
That changes when his cousin Yusuf arrives for a visit. He is from Mahmut's hometown in Anatolia, and he is looking for a job.
Yusuf's naive optimism leads to an argument between the two men, and comes to a peak regarding a silver watch that Mahmut seeks.
3. James Bond: Skyfall (2012)
James Bond and Istanbul – the two of them have a long tradition.
In "Skyfall," Bond chases the bad guy on a motorcycle by driving on the roofs of the Grand Bazaar.
In "From Russia with Love" Bond takes a boat to a hidden room in the Cistern of the Basilica Aya Sofiya.
And then there is "James Bond: The World Is Not Enough". In this film, James Bond prevents an atomic meltdown from a submarine in the Bosporus.
Besides London, hardly any city has been a backdrop for Bonds' adventures more often than Istanbul.
4. HAMAM (1997) – The Turkish bath
Hamam is a Turkish-Italian film.
It is about a couple, namely Francesco and Marta from Rome.
Francesco has an aunt from Istanbul. She dies. Francesco then travels to Istanbul to manage her inheritance. To his surprise, there is a hammam (steam bath sauna) underneath.
Francesco and Marta's marriage is soon over. This can be expressed through an affair and unexpected things that take place in Istanbul.
Finally, Francesco's wife Marta takes over the hammam in Istanbul – which is totally unexpected at the beginning of the film.
5. 96 Hours – Taken 2
In the first part of Taken, retired CIA agent Bryan Mills frees his daughter from the hands of young female traffickers.
He now lives in Istanbul – as an exclusive bodyguard. He wants to present his new life to his daughter and ex-wife.
The moment of their arrival is the very moment when everything falls apart:
The traffickers from the first part were just waiting for their arrival. They kidnap Bryan's daughter and ex-wife.
It happens just like the first part: Ex-Agent Bryan fights his way through the gang ranks – he does things the old fashioned way.
But this time, he does it with the support of his daughter – who has learned how to defend herself.
6. Against the wall
Forty-year-old Cahit is drunk and drives unrestrained against a house wall. He survives the suicide attempt.
He arrives at a hospital. This is where Cahit meets Sibel. She is also in the hospital for attempting suicide.
Sibel has tries everything to escape from her ultra-strict family. Because she gets on well with Cahit, Sibel comes up with the idea of ​​entering into a fictitious marriage.
After Sibel tries once more to commit suicide, Cahit is convinced that her idea has merit.
When both leave the hospital and are married, they part ways – at least, for the time being.
Sibel lives her life with a new sense of freedom and Cahit realizes that he cares more about Sibel than he originally thought.
7. Turkish Star Wars (Dünyayi Kurtaran Adam)
Dünyayi Kurtan Adam – "The man who saves the world" is a science fiction film from Turkey.
Because of its simple design and trashy content, it is extremely popular among film buffs. Turkish Star Wars was not even dubbed in English or German.
The plot:
Space pilots Murat and Ali are humanity's last hope.
In the distant future, the pilots crash on a deserted planet during a space battle. There, they are attacked by skeletal warriors and a galactic wizard.
What else occurs in Turkish Star Wars: Space zombies, lightning swords, mummies, plush monsters, …
In a nutshell: "Dünyayi Kurtan Adam" is a really trashy film – Sharknado doesn't do it better.
For example: In the opening scene, Murat and Ali are sitting in front of a screen wearing motorcycle helmets. Real scenes from Star Wars are projected onto them – as a backdrop for the space battle.
Do you have any tips or suggestions about films from Turkey filmed in or about Istanbul? Then please, share your favorite films set in Istanbul in the comments!