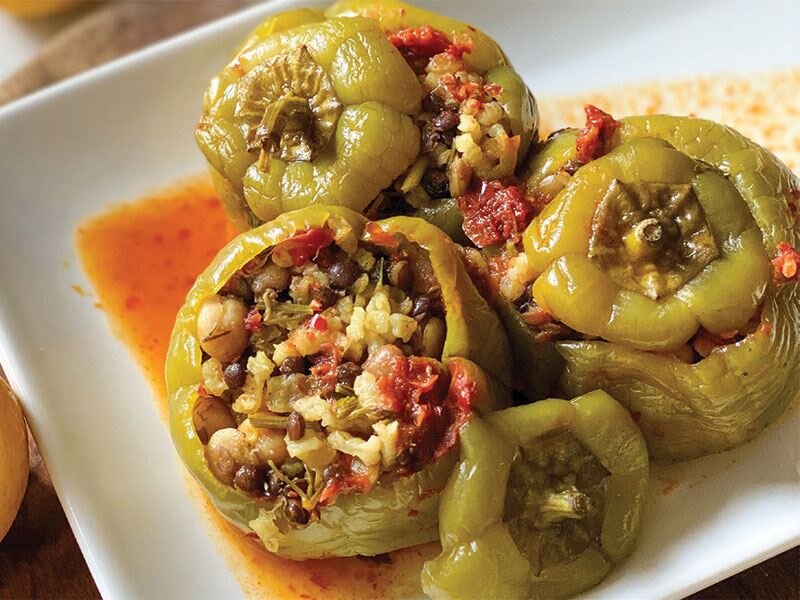 How to prepare Biber Dolmasi ?
Biber Dolmasi or Stuffed Turkish Peppers (Biber Dolması), please find below the recipe :
Here is the Turkish recipe for biber dolması, that is, stuffed peppers. I want to share with you a dish that is cooked in all Turkish homes, the biber dolması.
Now I imagine your expressions because you will think that even in Italy, there are regions where the tradition of stuffed pepper exists, as in Sicily for example.
Surely in all Mediterranean countries we find a similar dish, but each country always brings something new, its own touch, a variation, which certainly makes it "different" in some respects.
I will explain my mother's recipe to you, as the way to prepare and cook it also varies in Turkish households.
The ingredients
One dozen medium-sized (possibly regular-shaped) green peppers
Two skinless and seedless tomatoes
300 grams of washed rice
250 g of minced veal
1 onion
Spices according to your taste (I add pepper, chili and mint)
1 tablespoon of tomato paste
Paprika (one teaspoon)
Parsley (one tablespoon)
Dill (one tablespoon)
50 ml of olive oil
1/2 litre of water
1 teaspoon of salt
How to prepare Biber Dolmasi
Here's how to make the filling for biber dolması. First, mix all the ingredients in a large salad bowl, except for the tomato paste, the oil and 1/2 litre of salted water which will be used to make the "sauce", and of course except the peppers! Right? You follow me, right?
Let's put the salad bowl aside.
Now we wash the peppers and remove the tops, which I recommend to keep for later. For this stage, I recommend using a knife in order to obtain a small hole, which is therefore easier to close once it is filled. Then we empty the peppers for good and with the finger we fill up the inner walls.
Let's proceed with the actual filling. We start filling each pepper. Be careful not to overfill the stuffing because when cooking, the rice tends to swell.
Once all the peppers are stuffed, we can close them with the tops that we have carefully cut and preserved. Or we can do it like my mom, that is, we cut a tomato into quarters and empty them of the pulp to create "caps", in order to close our peppers.
Either way they look good! Believe me! Once they are all filled, we arrange them vertically in a pan, one next to the other (which is why it is better for them to be of a consistent shape).
In a pan with some oil, brown the tomato paste. In another container, we dissolve this preparation of tomato paste in half a litre of hot and salted water. Prepare this "sauce", pour it into the pan where we placed the peppers.
Cook for about 40 minutes on low heat and … dinner is ready !!