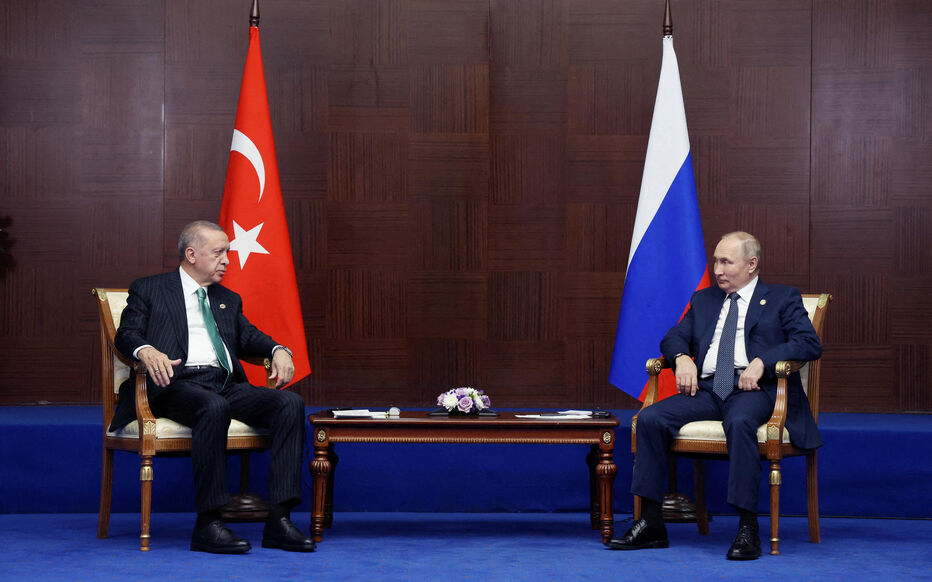 Putin offers Erdogan to create a "gas hub" in Turkey to export to Europe
The Russian president Putin was full of praise for his Turkish counterpart Erdogan during their meeting this Thursday in Kazakhstan. A project that makes "no sense", comments the Elysée.
Bilateral meetings are rare for Vladimir Putin who is increasingly isolated on the international scene. But Putin was still able to propose this Thursday to his Turkish counterpart Recep Tayyip Erdogan to create a "gas hub" in Turkey to export gas to Europe, at a time when Russian deliveries to the EU are affected by sanctions and Nord Stream gas pipeline leaks. "We could examine the possibility of creating a gas hub on Turkish territory for deliveries to other countries", in particular to Europe, said Mr. Putin during a meeting with Tayyip Erdogan, on the sidelines of a regional forum in Kazakhstan.
Putin praised Turkey, which has proven to be "currently the safest route for deliveries" of Russian gas. A possible gas hub in Turkey could also be used "to define the prices" of these hydrocarbons, "today exorbitant", according to Vladimir Putin. "We could regulate prices without any politics getting involved," he added. The project makes "no sense" as Europeans want to reduce their dependence on hydrocarbons from Russia, the Elysée commented on Thursday. "It makes no sense for us to create new infrastructure that would allow us to import more Russian gas."
Putin Erdogan : The threat of a price cap
The possibility of Turkish mediation in the conflict in Ukraine was not mentioned at the start of this meeting. The Kremlin had indicated on Wednesday that it expected a concrete proposal from the Turkish president on this proposal.
Vladimir Putin's initiative on a gas hub in Turkey comes as Russian gas deliveries to Europe are heavily affected by Western sanctions imposed on Russia, with the EU considering a cap on gas prices in the face of the rise in energy bills caused by the Russian offensive in Ukraine. In addition, four huge gas leaks appeared at the end of September on the two gas pipelines linking Russia to Germany, caused according to several countries by underwater detonations.