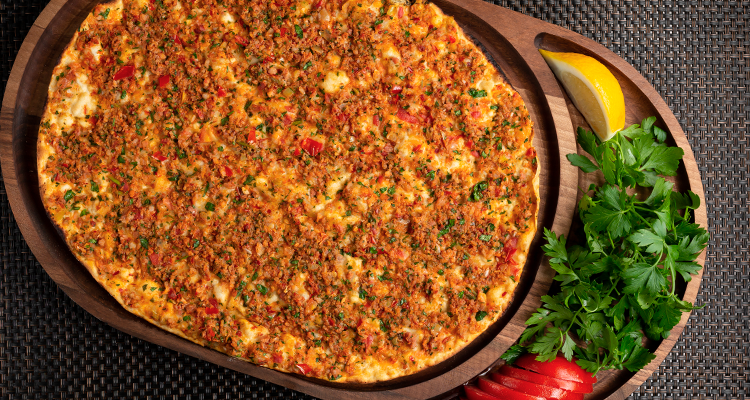 Lahmacun, the recipe for the tasty Turkish Pizza
After weeks of practicing with various Turkish dishes, the time has come to reveal the recipe for lahmacun, which we often define as simplify Turkish Pizza. To tell the truth, pizza only has a round shape! In fact, the lahmacun is much thinner and crunchier (a bit like the Alsatian Flammenkuchen).
The lahmacun has a real social role, like pizza, because it has the ability to unite families and friends. It is a convivial and colourful dish, which brings people closer to the time of a meal.
At my house, my mother prepared them in huge quantities on Sundays and she took the opportunity to invite my brothers with their wives and children, to create that atmosphere that only a mother in the kitchen can create.
This dish transformed the meal into something jovial, cheerful and memorable. It is one of my fondest memories, which over time I will always remember with a lot of nostalgia.
Ingredients for the preparation
Here are the ingredients for the preparation of lahmacun
600 ml of hot water
1 kg of flour 0 (the one for pizza is fine)
1 sachet of dry yeast
20 gr of salt
olive oil to taste
15 grams of sugar
salt and pepper
500 gr finely minced meat (ask the butcher to chop it twice)
60 grams of olive oil (4 tablespoons)
1 large onion, finely chopped
4 finely chopped garlic cloves
a mix of spices, in a spoon, paprika, dried chilli, finely chopped fresh parsley, salt and pepper
15 gr of tomato paste
How to prepare lahmacun?
In a large bowl, put the hot water, sugar and yeast, mix and let it rest for about 15 minutes. Gently add the flour while stirring and the salt last. We mix again and start kneading for 10 minutes on a floured work surface. We must obtain a soft and homogeneous mixture. We oil a bowl and place the kneaded dough on it, cover to let it rise for about an hour and a half.
We begin to heat our oven to 200 degrees, while we prepare the filling.
In a pan, fry onion and minced garlic for about 5 minutes. This stage is important because raw onion in the filling is more difficult to digest.
Pour the sauté into a salad bowl and add the mince, spices, salt, pepper and tomato paste. We mix well. The ready topping should be placed in the fridge once prepared.
We recover our leavened dough and give it the shape of a sausage, which we will have to divide into 10 balls. Each of them will be crushed with your hands and then rolled out with a rolling pin, until you get the round and thin shape of the lahmacun. The same shape as a pizza. Don't hesitate to use your hands to spread out as much as you can.
How to taste lahmacun?
Once your lahmacun are cooked, the long awaited moment of tasting arrives! After such a demanding job, did you think you would just eat them?
In fact, we Turks taste lahmacun by adding fresh parsley and chilli, or some salad and a squeeze of lemon. But the lahmacun takes on a fabulous dimension when it is accompanied by the inevitable Ayran beverage.