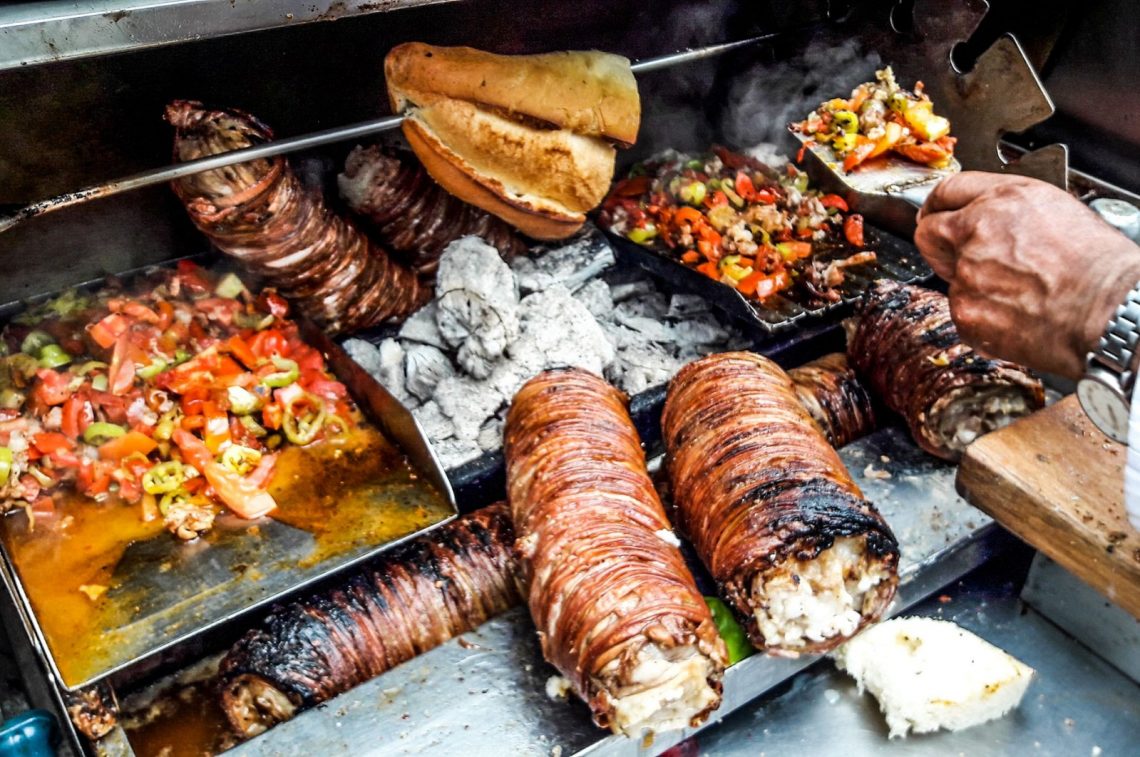 The Five Best Turkish cuisine dishes to make at home
Here are the five best Turkish cuisine dishes which are not to be missed. In addition to Turkey being filled with mythical places to visit, you cannot discover Istanbul and Turkey without trying its colourful and delicious cuisine.
Secrets of Turkish cuisine
Turkish cuisine is one of the tastiest cuisines in the Middle East, which is why I have prepared a list of five Turkish absolute must dishes for you to try.
1. Börek, a timeless delicacy of Turkish cuisine
Börek is the great star of Turkish cuisine, a recipe that cannot be missed. For that reason, it has been added to the list of 5 non-negotiable Turkish dishes to prepare at home. There are different shapes and with different fillings, but the basic recipe uses a simple cheese filling. You can vary it as much as you want, depending on your particular tastebuds and your cravings.
When I was a child, börek was ubiquitous at breakfast, as a snack, on a feast day or whenever we had guests. Then and now, we like to accompany it with either tea in the morning or with Ayran.
The most popular Böreks are those made with feta cheese, which are highly appreciated in Turkey, or they may be made with the addition of spinach.
My mom made börek with beyaz peyniri (a cheese similar to feta), with tulum peyniri (a very salty and sour cheese that comes from the deep east of Turkey) or with mashed and fried potatoes with onion in a tomato paste.
2. Baklava, the national dessert
Baklava is the oriental dessert par excellence, very popular in Turkish pastry. We can define it as the national dessert, but in reality, it is a dessert that is widespread everywhere in all the Middle Eastern countries. In spite of the fact that it is a dessert, it cannot be missing from the list of Five best Turkish dishes to taste.
Baklava is made with phyllo dough (yufka in Turkish) and is stuffed with dried fruit, sugar and syrup.
The mastery of Turkish women of the past was truly incredible, in fact, they rolled out a big, perfect and transparently thin phyllo dough, just like the wings of a butterfly. Seeing them work and laying out these beautiful yufkas was truly enchanting. The use of the oklava (very long and thin rolling pin) was essential.
3. Lahmacun and Ayran, a winning combination
Lahmacun, which we often simply define as Turkish Pizza, is much thinner and crunchier than a normal pizza (a bit like Alsatian Flammkuchen).
The lahmacun plays a real social role, like pizza, because it has the ability to bring families and friends together. It is a convivial and colourful dish, which opens people's hearts and turns the occasion into an instant party-like atmosphere at the time of a meal.
My mother used to prepare them in huge quantities, especially on Sundays. She took the opportunity to invite my brothers with their wives and children to join us, creating that atmosphere that only a mother in the kitchen can create.
It became a meal, both jovial and cheerful, which became an unforgettable part of my deepest memories, and which I will always remember with a great deal of fondness and nostalgia.
The lahmacun takes on a fabulous dimension when it is accompanied by the inevitable Ayran. Find out how to make Ayran at home.
4. Simit, street food break
The scent of the simits, which are sold on every street corner, will enchant you as soon as you arrive in Turkey! These are those circular baked goods covered with sesame (similar to bread but with a slightly sweeter flavour).
In Turkey, we eat simits for breakfast, as a snack or as a substitute for bread. As a child, I often ate them when I went around Istanbul with my brothers.
It is absolutely not to be missed.
5. The Çig Köfte, the famous raw meatballs
Remember the Çiğ köfte? Those tasty dark red meatballs, kneaded by hand first by Sanem and then by Can in the TV series Erkenci Kuş? If you are wondering what they are, Çiğ köfte are raw meatballs! This is a typical dish in Turkish cuisine.
Faithful to the divine cook who was my mother, I will give you her recipe, which you will surely like very much, obviously without detracting from the methods used by Çiğ köfte of Can and Sanem. Click here for the Çiğ köfte Recipe.
It is a dish that originated in the eastern part of Turkey, but it is now widespread and appreciated throughout the entire country.
I have heard that some prepare this dish by working the bulgur in, first. In fact, there are those who put the bulgur in the bowl with the same amount of hot water and salt, then cover it for 10 minutes. This little shortcut saves you the effort of kneading.
Try it! It makes this tiring recipe easier, but don't tell your Turkish friends right away … tell them you've been kneading for hours and hours.
Turkish cuisine is on par with Turkey's millennial history, so it is varied and rich. There are many other specialties to recommend, from the various Kebaps to the countless hot and cold meze (appetizers). All of these dishes are always accompanied by the pillar of Turkish culture, which is Turkish çay, or tea.
Discovering succulent Turkish cuisine
Today we will go on a journey to discover the varied dishes of Turkish cuisine. The Turks were originally a nomadic people, and they knew how to adapt their recipes to the countries that the Ottoman Empire was conquering. Consequently, Turkish cuisine has been influenced by the Balkan countries, the Middle Eastern countries and the North African ones.
The list of dishes that can be eaten in Turkey is really long, because as you may have imagined, we love to eat, we love to have beautiful colourful tables filled with flavours, because in the depths of our hearts, despite the daily frenzy, we want to transform the meal in a moment of keyf, that is, of total relaxation and repose.
Discovering Turkish cuisine is a feast for the senses
First of all, Turkish cuisine must (always) please the eyes. Who among you hasn't already seen, for example in Turkish TV series, tables laden with every imaginable delicacy? Turkish cuisine must be rich, beautiful and colourful, and the tastes must be intense and savoury.
We play with vegetables, sauces and meats, to present our cuisine in an almost artistic way.
Soups in Turkish cuisine
In Turkey, your meal begins with soup! Typically, you choose from the mercimek çorbası, the ezogelin or the ayranlı çorbası. We accompany our succulent soups with pita bread or with a squeeze of lemon on ezogelin soup. Here you can find the soup recipes https://www.ilsalottoturco.com/category/recipes-di-cucina-turca/, but let's continue our journey to discover more of our amazing Turkish cuisine .
After the soups, it's time for the meze (appetizers).
Let's discover the meze …
In the category of meze, you will find cheeses, beans in salads, potato salads, but also the elaborate börek (fried or baked filo pastry, filled with cheese or minced meat). The cacık (https://www.ilsalottoturco.com/la-ricetta-dello-cacik-meraviglia-culinaria/) cannot be absent at the dinner table, which is a highlight among the meze of our cuisine.
Another Turkish marvel is the dolma! It usually consists of stuffed grape leaves, usually stuffed with rice and minced meat, or it can be stuffed peppers or alternately stuffed cabbage leaves.
Dolma
The filling cannot be without fragrant spices, pine nuts or raisins. Is your mouth beginning to water?
But that's not all, because our meze also offers a variety of vegetables marinated or cooked in succulent olive oil. One of these specialties is Imam bayıldı, made from half an eggplant (a.k.a. aubergine) stuffed with onion, tomato and spices. This appetizer is served cold. For your information, Imam bayıldı means the Imam has passed out … which makes us wonder, who knows how much the Imam must have liked this dish ….
In Turkish cuisine, potato-based dishes cannot be missing, Kumpir, for example, is a large baked potato, which is subsequently stuffed with butter, cheese and vegetables, a truly unique delicacy for the tastebuds.
Now we have the Main course… even if you are already most certainly full!
We continue our journey to discover Turkish cuisine. In Turkey, the main dish is usually meat-based, but since Istanbul is on the sea, a lot of balık (fish) is also eaten. Kebap meat is the most well-known and most appreciated meat dish. By kebap we mean grilled meat, usually veal and mutton.
There are many varied recipes and many ways to cook it, such as şiş kebap (meat skewers), the well-known döner kebap (meat that we see turning on the spit), iskender kebap, whose meat is similar to that of döner kebab, but the dish comes with pita bread, yogurt sauce, tomato sauce and melted butter on the meat. Güvenç (meat prepared in a broth with vegetables, a type of stew) is also very popular. Another very popular dish is tavuk şiş, that is flavoured chicken skewers.
Side dishes in Turkish cuisine
Bulgur
As a side dish, rice pilaf is often prepared, but so are potatoes fried in wedges, as well as fried or grilled vegetables. In short, Turkish cuisine is so varied and rich that it's really hard not to find something you don't like.
My favourite dishes
My favourite specialty is …. definitely the pita !! Not the pita bread like the recipe you will find in the blog, but the pita stuffed with minced meat, sucuk (veal salami) or cheese. This pita, by the way, has an elongated oval shape. It is simply wonderful!!!
In Turkey, pita are very cheap and they are sold everywhere. In addition to the pita, I also recommend the lahmacun (similar to pizzas but with a very thin dough covered with minced meat, tomato and onion). Like the pita, lahmacun are cheap and can be found everywhere.
It does not end there, I also suggest the gözleme (similar to crepes, stuffed with cheese, spinach, potatoes or minced meat), börek (savory sheets of tiny, transparent dough, stuffed with delicious cheeses, spinach or meat), the poğaça (similar to Sicilian calzone) which is stuffed with cheese or any other filling.
Turkish cuisine is also rich with cheeses and dried fruit
In Turkey, cheeses have taken a place of honour, as we use them in many different preparations and also eat these cheeses for breakfast. Some of the most famous are beyaz peynir (similar to Greek feta) and kaşar peynir (with a distant resemblance to gouda), to name only a few.
Dried fruit has an essential place in the daily life of every Turk. It is present at many times of the day. In fact, dried fruit accompanies our tea breaks, moments of relaxation, as well as during chats with friends and relatives. For example, every afternoon, my dad has the habit of munching on a mix of dried fruit that he put together himself. And I myself supply my pantry with various types of dried fruit… except leblebi (toasted chickpeas), which come directly from Istanbul.
Dried fruit is also eaten in Italy, but I can assure you that it is nothing in comparison to Turkey. In Turkey we have small businesses that only sell dried fruit, spirits and sweets. Kuruyemişçi is the paradise of dried fruit.
Confectionery and Pastry
There is also a great tradition of sweets in Turkey. I tell you right away that Turkish pastry in general is really very sweet. The most well-known sweets of all are the lokum, sugared pastry cubes flavoured with rose, mint, hazelnut, milk, coconut. Imagine enjoying a lokum while sipping a glass of tea in front of the Bosphorus.
There is also the halva, a wonderful mixture of butter, flour and sugar. My mother prepared it very frequently, and she paid homage largely to her friends, neighbours and relatives on the occasion of religious holidays. The industrial halva, which is also very good, is found in all Turkish businesses.
Baklava
Among the Turkish desserts I also recommend the famous Sütlaç (rice pudding, which we also find in Italy) and tavuk göğüsü, a dessert with a dough similar to a pudding but a little firmer.
And last but not least, Baklava.
How to talk about eating without drinking?
We end our journey to discover Turkish cuisine by talking about the most popular drinks in my country. Tea and coffee have been topics I have dealt with several times in previous articles, I have made you discover the "ceremonial" and the tradition that surrounds us and them.
Now I will tell you about the refreshing ayran (see recipe), which is one of the favourite drinks of the Turks, especially in summer. But it is also ideal to accompany a lahmacun or a pita with cheese … what a dream!
As for alcohol, beer is consumed, preferably Turkish varieties such as Efes PIlsen! Rakı, a Turkish national drink (similar to Greek ouzo), is very strong, and will never be missing on any host's table, as well as the customary "şarap" wine.
It is very common to have a sip of pure rakı, immediately followed by a sip of water. But many prefer to mix rakı and water before consuming it (it becomes a whitish coloured, anise-flavoured drink).
I hope this article on Turkish cuisine has intrigued you and encouraged you to try some of our unique recipes. Turkey, with its ethnically rich and ancient culinary tradition, always has something new to discover.