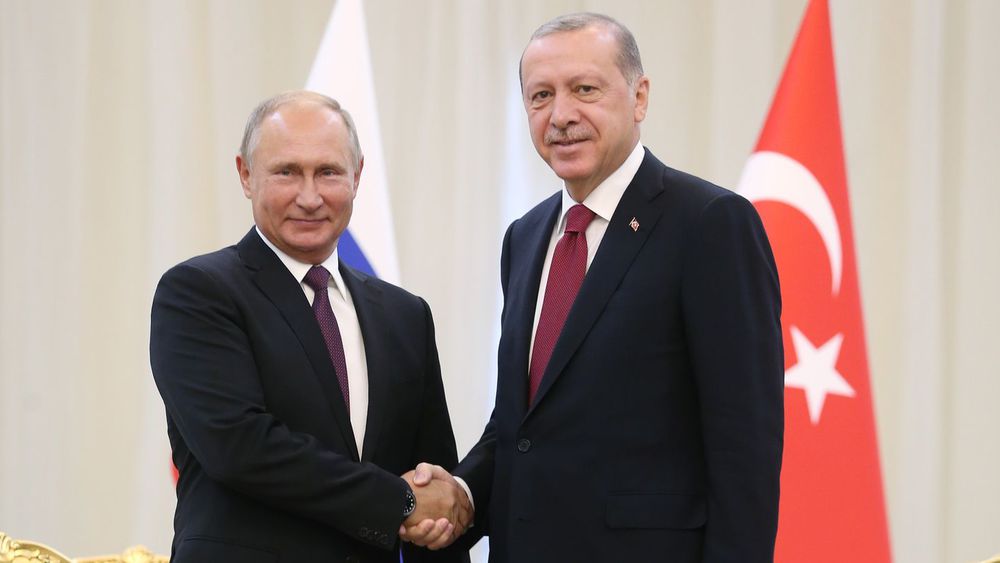 RUSSIA ANNOUNCES SUMMIT BETWEEN PUTIN AND TURKISH AND IRANIAN LEADERS IN TEHRAN ON JULY 19
The three Heads of State (Russia, Turkey and Iran) will notably discuss Syria. But Ukraine, where Turkey wants to have a mediating role, should also be on the agenda.
The presidents of Russia, Turkey and Iran will meet on July 19 in Tehran for a summit on Syria and bilateral talks, the Kremlin announced on Tuesday. This will be Vladimir Putin's second trip abroad since the launch of his offensive in Ukraine at the end of February.
President Vladimir Putin's visit to Tehran on July 19 "is being prepared," Kremlin spokesman Dmitry Peskov told reporters. Vladimir Putin, Turkish President Recep Tayyip Erdogan and Iranian leader Ebrahim Raisi will participate in "a meeting of heads of state guarantors of the peace process" in Syria, said Dmitry Peskov.
Discussions around Syria between Turkey and Russia
"In addition to this tripartite meeting, there will also be a bilateral meeting with Erdogan" the same day, continued Dmitri Peskov, without giving details, while talks involving Turkey are underway to allow Ukrainian cereals to be exported by the Black Sea.
Russia, Turkey and Iran are three major players in the conflict that has ravaged Syria since 2011. In 2017, they launched the so-called Astana process, which officially aimed to bring peace to this country.
The announcement of the summit next week comes the day after an agreement at the UN on the extension for six months of a cross-border aid mechanism for Syria, the renewal of which Moscow had initially blocked.
The role of mediator wanted by Turkey in Ukraine (against Russia)
The meeting in Tehran will also take place as President Erdogan, who is beating his electoral base before a presidential election announced as difficult next year, has been threatening for weeks to launch a new military operation against pro-Kurdish fighters in the north of Syria.
Besides Syria, the bilateral meeting between Putin and Erdogan is expected to be dominated by talk of the Russian offensive in Ukraine. Turkey, which strives to maintain good relations with kyiv and Moscow and acts as a mediator, has on several occasions offered its assistance to export, via safe maritime corridors, Ukrainian cereals blocked due to the conflict.
This proposal by Turkey received only limited support from both Russia and Ukraine.