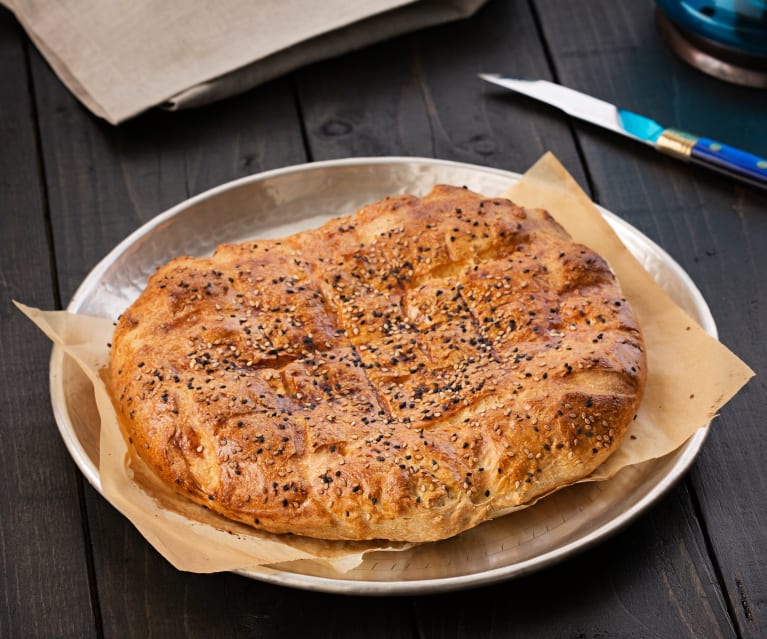 How to cook Pide ekmegi ?
How to prepare Pide ekmegi, a delicious homemade bread
Pide ekmeği is one of the pillars of Turkish cuisine. It's a real treat! It accompanies almost all "meze" appetizers and main dishes, soups, such as mercimek çorbası, meat and fish. In this article I will tell you about how to make pide bread.
Pide is a very easy bread to prepare, its scent will make you feel as if you were in Turkey, as every Turkish house takes price in eating this type of bread.
Ingredients
Here are the ingredients to prepare pide ekmeği.
15 gr of fresh yeast
500 grams of flour  
50 grams of olive oil
120 grams of warm water
180 grams of milk (1 tablespoon for brushing)
1 tablespoon of sugar
10 gr of salt
sesame
How to cook pide ekmeği ?
Let's start by mixing the yeast and sugar in the water. We wait a minute before adding the milk and oil. We mix well and proceed slowly adding the flour and salt. We knead for about 10 minutes (2 minutes in your mixer are enough!)
Let our nice dough rise, in the shelter for about 1-2 hours. Once the dough has doubled, we divide it into two homogeneous doughs.
Turn on your oven to 180 degrees.
We roll out each dough with our hands to create a round bread. We make "holes" with our fingers on the surface, brush with milk and sprinkle with sesame.
We bake our future pides at 180 degrees for about 25 minutes, always checking the cooking.
And voila! Our tasty pide bread is ready to eat !!
Memories of pide
In my family, the favourite day for making bread was Sunday. My mom made large quantities of it and kept it in the freezer, since in France it was not easy to find unlike in Turkey, where pide was sold on every street corner.
Follow me on my blog where you will find the best Turkish cuisine recipes.